Erin Baker's is dedicated to baking with simple, whole food ingredients for life on the go!
Help Feed 1 Million Kids Program
Every purchase feeds kids at the Boys & Girls Clubs every day... it's that simple!
Learn More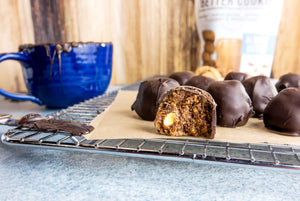 Featured Recipe
Paleo Better Cookie Truffles Recipes
Grain Free Paleo Almond Butter Better Cookies Covered in Chocolate for a decedent holiday treat!
Get the Recipe
Our Food Philosophy
Simple, Whole Food Ingredients
We bake with whole foods, so your body can get more from what you eat. That means no to: flavorings, colors, preservatives and fillers!
Learn More
Change Your Food... Change Your Life
View all